US Tribal Police
Who are Tribal Police?
Tribal police are the law enforcement agents that keep the peace, enforce laws and protect citizens within Native American/Indian reservations. In America, there are more than 200 tribal police departments, ranging in size from two to three officers to more than 200 hundred.
Tribal police perform many of the same functions as regular police including investigating crime, dealing with traffic violations and accidents, arresting people, search and rescue, court security and public service. These tribal police officers are called sheriffs, constables, regulators, and even lighthorsemen (Indian mounted police force) and they work closely with other law enforcement agencies in many capacities.
According to the Indian Self-Determination and Education Assistance Act of 1975, tribal police may establish government functions; however, they see fit as long as they are in conjunction with the Bureau of Indian Affairs (BIA).
There are five main civilized American Indian tribes in the U.S. They are Cherokee, Chickasaw, Choctaw, Creek, and Seminole. Any federally recognized tribes that reside in states not governed by Public Law 280 67 Stat. 588 (1953), must institute a democratic government with three branches (executive, legislative, and judicial).
Additionally, the Indian Self-Determination and Education Assistance Act of 1975 (also known as Public Law 93-638), "establishes the department's organizational framework and performance standards and basic funding for the police function".
History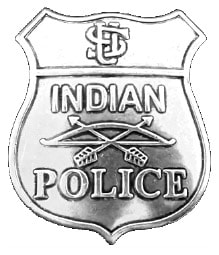 Tribal police date back to 1869 when Thomas Lightfoot became the first United States Indian Agent representing the Iowa, Sac and Fox Indian tribes in Nebraska. His was the first Federally-sponsored police force.
Four years later, replacing a treaty with Indian tribes with the reservation system, U.S. Commissioner Francis A. Walker suggested instead that: "The reservation system affords the place for thus dealing with tribes and bands, without the access of influences inimical to peace and virtue. It is only necessary that Federal laws, judiciously framed to meet all the facts of the case, and enacted in season, before the Indians begin to scatter, shall place all the members of this race under a strict reformatory control by the agents of the Government".
Thus, began the formation of tribal police and separation of federal and state law enforcement by allowing tribal nations to govern themselves. Laws and traditions have evolved over time, and tribal police now work closely with local and federal law enforcement especially when incidents that fall under federal jurisdiction take place on tribal lands.